&raquo McCallum Bagpipes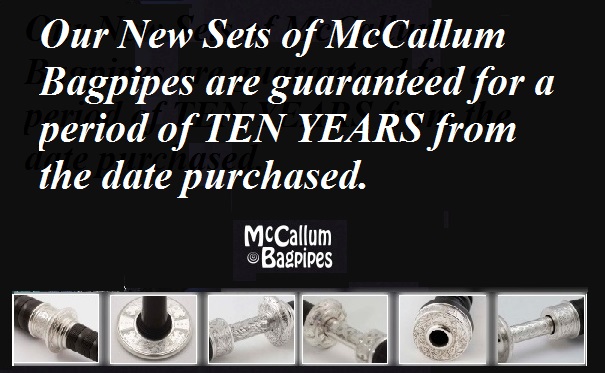 McCallum Bagpipes Whether you are a serious competitor or just plain serious about the bagpipes you play, our choice of McCallum instruments harness luxurious refinement and unrivalled craftsmanship with uncompromising sound quality that only a set of McCallum Bagpipes can produce. Every budget is catered for in our exclusive collection of bagpipes. All McCallum Bagpipes are precision manufactured at the factory premises in Ayrshire by a team of highly skilled bagpipe makers – some of whom are experienced pipers, providing you with the peace of mind that all McCallum Bagpipes products are made by true experts. .


All bagpipes listed in this section are complete sets and are professionally set up and delivered to you ready to play. Let us know if you are a beginner, intermediate or an advanced player and we will set up your new bagpipe accordingly. Bagpipes are set up with a Synthetic zipper pipe bag, Ezeedrone drone reeds, bag cover, silk cords and pipe chanter reed. If you would like to substitute any section of your bagpipe such as drone reeds, pipe bag, cover, cords or pipe chanter please feel free to contact us for a price quote. When you buy McCallum bagpipes you are more than just a sale, you are a valued customer, and we will always be here to assist you with any pipe related questions or concerns.
McCallum Bagpipe Special Orders

We are very proud to be a MacCallum and MacRae Bagpipe distributor and to offer the complete line of McCallum and MacRae bagpipes and other products. To order any items not specifically listed on our website, simply browse the McCallum / MacRae Catalog and call us for our price and an estimated delivery time. In 2013 Gerry purchased Wallace Bagpipes, which he sold in 2016. The knowledge gained by the purchase and involvement with Wallace, plus his years of playing and distributing a wide range of bagpipes by the leading makers, gives him a vast insight as to what is quality of product in the bagpipe world. In Gerry's opinion, you cannot beat McCallum and MacRae Bagpipes for sound, quality of craftsmanship, and their unsurpassed back up service.
A model and price for everyone!
I cannot find the words that compliment my gratitude for all of your professional business. My new McCallum AB9 Pipes are brilliant!!!!! I will send a photo from my next performance. I look forward to a venue when I can shake both of your hands. The extras added were overwhelming......wow Sirs thank you, thank you, thank you! Good to be taken care of at that level of benevolent customer service. As always I will represent over three hundred years of tradition every time with a stunning appearance and strive every time to play the old tunes with the same precision.
Thanks again Gerry and Stuart and all the team at McCallum Bagpipes ! -- Pipe Major JD