&raquo Pre-Owned/Vintage Bagpipes
Gerry,
I got the pipes on Wednesday. They exceeded expectations as far as condition...
like you said, looks like they've barely been played!!!
I appreciate the packing too...I don't think a banana could've gotten bruised in that box, haha.
Thanks again for a great transaction. I'll also start using your company for supplies.
Thanks again,
Ian
All our Pre-Owned Bagpipes have been carefully inspected, and (when needed) refurbished by the professional bagpipe staff at Pipeline. Our goal is to give you a good solid instrument, not someone else's bagpipe problem.
Recent sales included a set of Engraved Silver Davil Naill DN-6 pipes, and a set of Kintail KB2sp pipes.
Pre-Owned/Vintage Bagpipes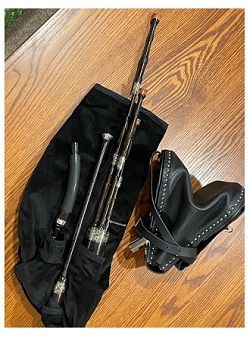 Price:
$1,600.00
Dear Gerry:
I wanted to take a moment to tell you what a joy it has been doing business with you. When you promised me something; you always delivered the product, and on time. When I bought my used Henderson's (1960s) from you, their condition was even better than you described (they looked like new). These pipes sound fantastic and look GREAT! I couldn't be more happy with this purchase from you.
Once again, thanks for taking the time to help me with the purchase of these wonderful pipes.
You come highly recommended to all my friends.
Sincerely,
Denny T.
Hi Gerry,
I received your check. I hope the student gets many years of service from the bagpipes.
Thank you for making everything work out well. It's a pleasure doing business with you....
Sincerely,
Rev Clarke.
Hey Gerry... Loving the Kintails.
thank you.
Craig